SPECIAL REPORT: Only 5.8% Of All 1,610 MPs Elected Since 1992 Are Women
theghanareport.com
Of the 1,610 candidates elected to Ghana's Parliament since the return to constitutional governance in 1992, only 94 are women.
This represents a marginal figure of 5.8%,theghanareport.com's political desk has researched.
It is a statistic that raises serious questions about the politics of inclusion, especially when women constitute more than 50% of Ghana's population.
 Theghanareport.com has combed through a list of all MPs elected since the first parliament and presents the names of women who have had at least a stint in parliament.
The New Patriotic Party has elected the most female parliamentarians with 45 while the National Democratic Congress has 44.
Other smaller parties and independent candidates have five.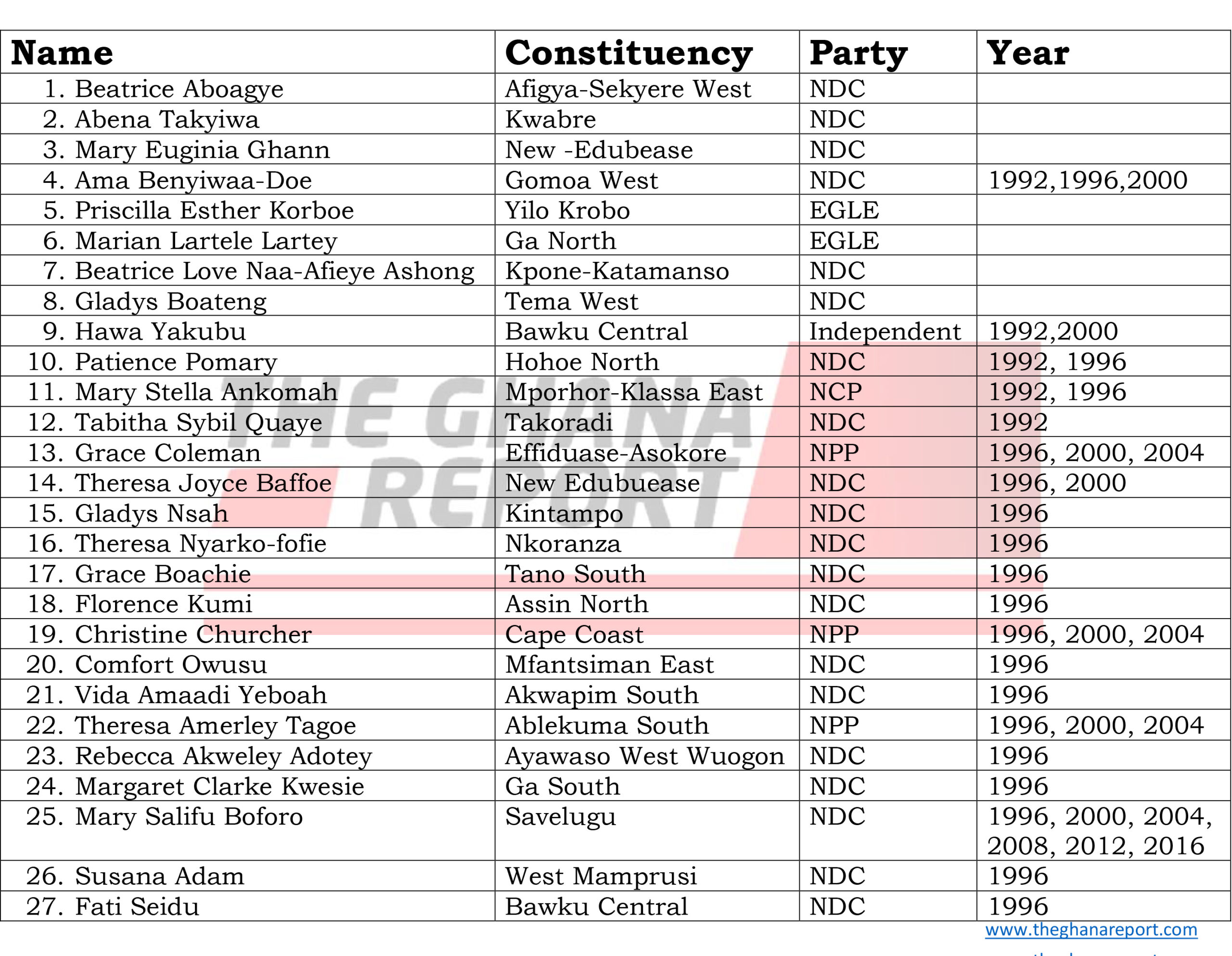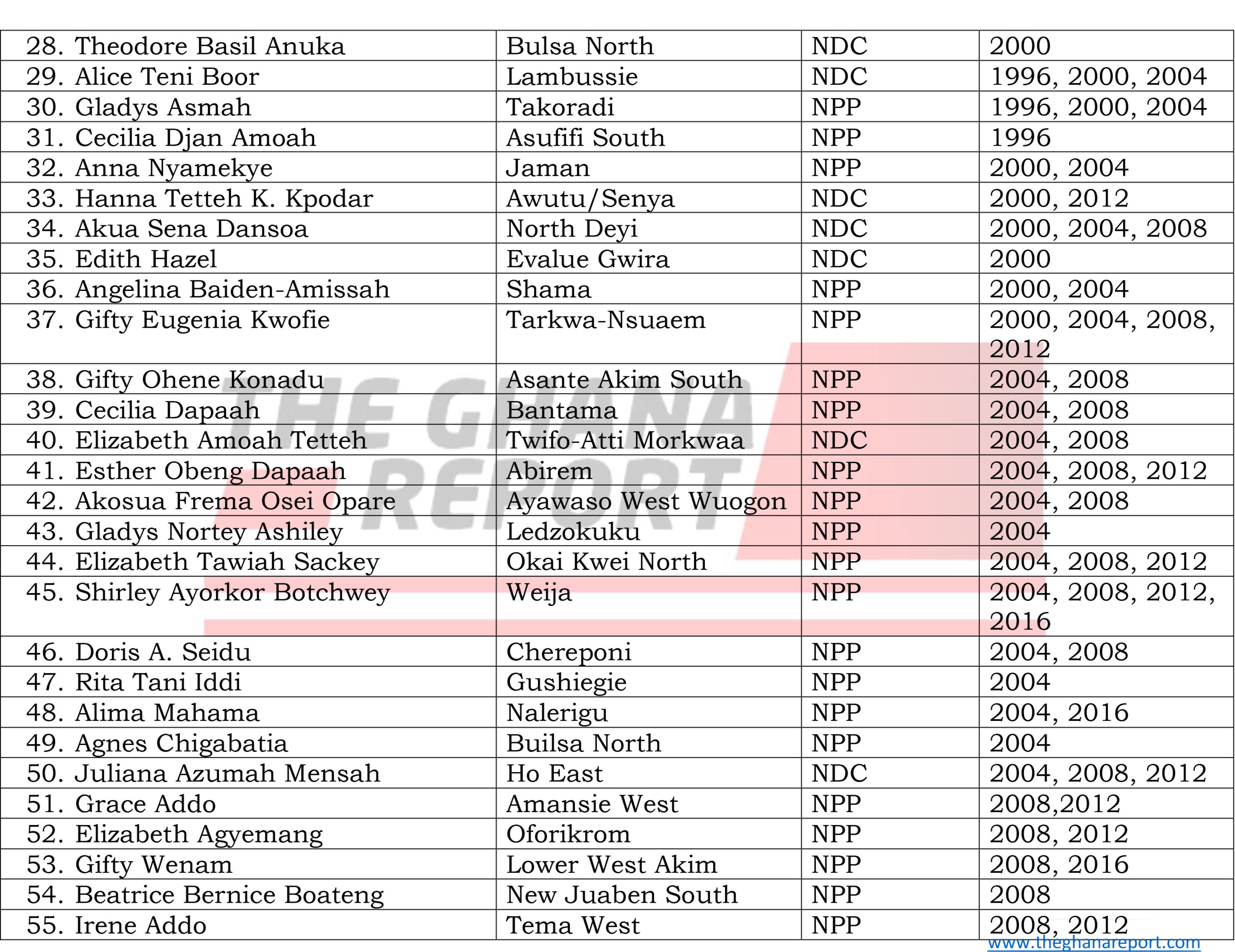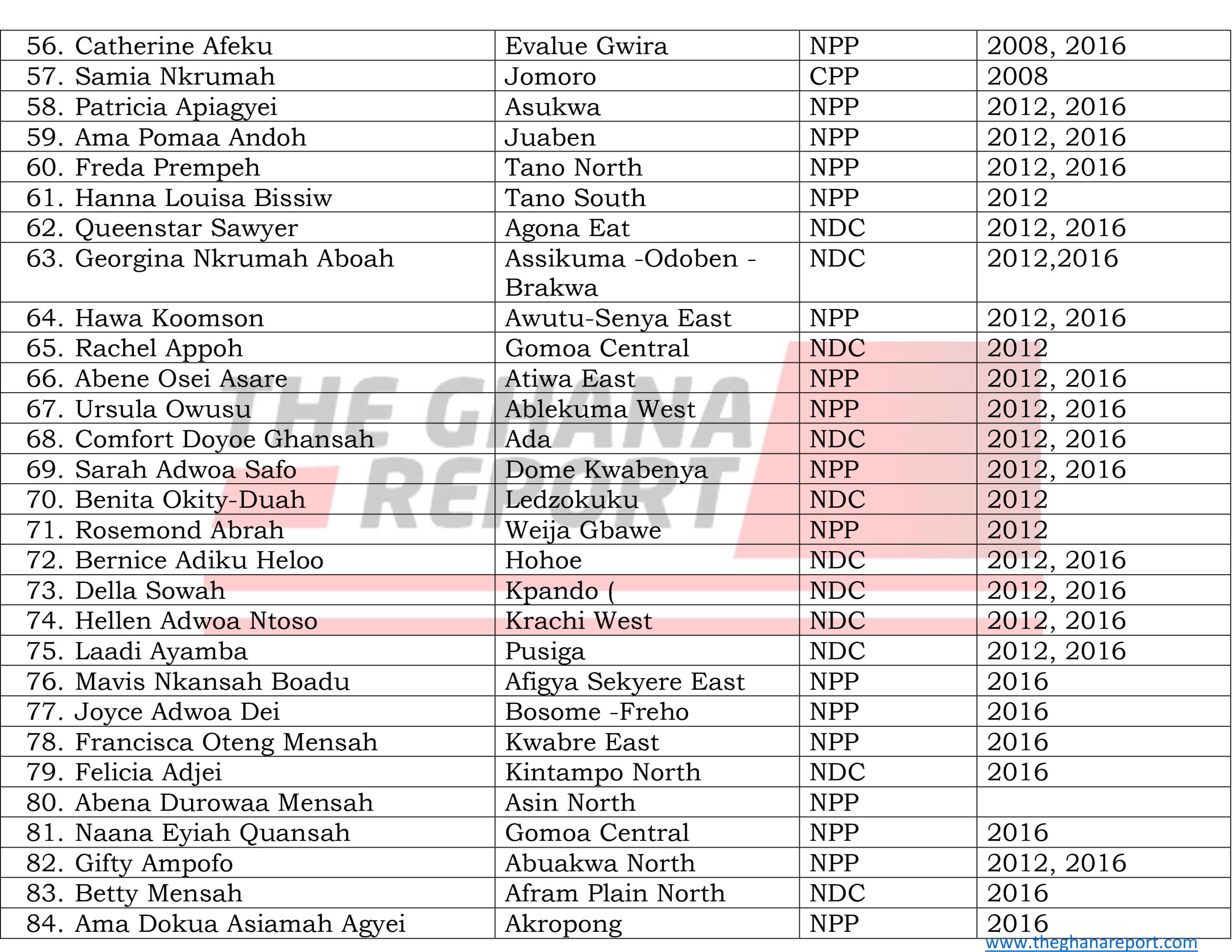 Since the first parliament in 1992, only three women have spent four terms (16 years) or more in parliament.
They are the NDC's Mary Salifu Boforo for Savelugu,1996 -2016
Mary Salifu Boforo before joining parliament in 1996, owned a bakery and a farming business.
While in parliament she rose to become the first deputy majority chief whip in 2014. She served on various committees in the House.
Mary Salifu Boforo lost in the 2016 primaries to Alhassan Abdulai Red, an NDC candidate.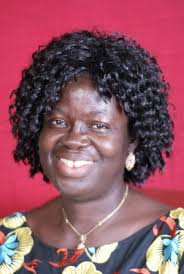 The NPP's Gifty Eugenia Kusi for Tarkwa Nsuaem constituency spent 12 years in parliament, 2000 to 2012.
While in parliament she served on the business committee, the NPP's Disciplinary Committee, and later served as a deputy Western Regional Minister.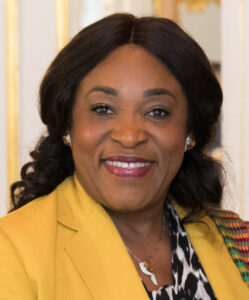 Foreign Affairs Minister, Shirley Ayorkor Botchwey has been in parliament since 2005.
She served as deputy minister for Foreign Affairs, Information and Trade and Industry in the erstwhile Kufuor government.
She is a fourth term legislator and represented one of the most populous constituencies, Weija, for two terms until it was demarcated.
She is currently representing the Anyaa/Sowutuom constituency. She is not running for re-election in the 2020 parliamentary elections.
Before entering into frontline politics, Shirley Ayorkor Botchwey managed a marketing and communications Company where she was a consultant for the Ministry of Tourism.
Others who have spent at least three terms in parliament are; Ama Benyiwa-Doe, Grace Coleman, Christine Churcher, Theresa Amerley Tagoe, Alice Teni Boon, Gladys Asmah, Akua Sena Danso, Esther Obeng Dapaah, Elizabeth Tawiah Sackey, Eugenia Azumah Mensah.
While their male counterparts spend more terms in parliament these women are limited by interrelated barriers.
Photo; Barbara Ayisi,Adwoa Safo,Tina Mensah
Theghanareport.com engaged with the Convener of Women's Right Coalition, Hamida Harrison who expressed concern over the issue.
"It is difficult to keep women in parliament because there are so many interrelated barriers that women cannot effectively compete…socio-cultural issues, religious, finances" she noted.
According to her, the monetization of political parties means positions are up for the highest bidder.
"Political parties themselves are not democratic institutions because they have not given the opportunity for women to climb to the positions where they can really affect change through decision making".
 "Have you seen a woman chairing any of the major political parties in Ghana or serving as General Secretary, National Organiser of any party, apart from when Samia Nkrumah chaired the CPP and now Haija filling her shoes as acting chairman… women are always given the women organizer slot even that did not use to be part of National Executive Committee where they make decisions" she added.
Political parties are institutions that link political actors to government and even to parliament so if political parties are not making gender issues important there is no way proper gender representation will be achieved in our body politics, some women activists noted.
Gender activist explains throttled female participation
The Convener of Women's Right Coalition, Hamida Harrison also pointed to patriarchy.
A patriarchal society is one in which men hold the power and women are largely excluded from it and one which allows men to project their values and aspirations as the reality of the society.
This system, according to Hamida, has prevented a lot of women from vying for political positions.
"Also financial constraints, family life; the multiplicity of chores doesn't leave much time for women to be involved in political activities". she added.
Legislation
Harrison said legislation has been the only way to get more women to participate actively in politics.
Citing examples, Hamida said, the Nkrumah government in 1960 appointed 10 women into parliament through legislation after it noticed no woman was elected in the 1960 elections.
"It was because women helped him in terms of mobilization during the campaign but when the elections were done, no woman was elected"she explained the Nkrumah government's move to get women into parliament.
In an example of how patriarchy works against women, she pointed to a system of inheritance which denied wives the properties of their deceased husbands. Often the man's family would take over the properties.
This practice was declared unlawful by the PNDC junta. The 1985 intestate succession law (PNDC law 111) was enacted through legislation to determine intestacy and to substitute for indigenous legal practices that did not favor women on inheritance after the death of their spouse.
The interstate law protects the spouse and child(ren) of an interstate deceased, by devolving the existing house and some percentage of the remaining estate to the spouse and child (ren).
The law was later amended in 1991.
She also pointed to the passage of the Labour Act in 2003 which made it a binding demand that women get three months' maternity leave. This was enacted after pressure was mounted on government, she said.
While these two laws have helped, gender groups are eager to see the passage of the affirmative action bill.
She said despite the pressure mounted on the government by civil society organizations since the 3rd and 4th parliament to have the affirmative action bill passed, it has not been successful because of lack of political will.
"The Gender Ministry took it up in 2011 to have the affirmative action bill passed but up till now it has not been fruitful… before the Mahama government ended they developed a bill but it was sent to parliament very late and so not much was done on it and [parliament] was dissolved" the convener explained.
She said since NPP took over the seat of government there has been some back and forth but no progress has been made.
"Legislation helps and that is why we need the affirmative action bill passed.. it is good for the promotion of women in the country but it seems there are no political will and women are left to fend for themselves in the political arena and it is becoming harder and harder for them".
Currently, out of 275  parliamentarians, only 34 are seats are occupied by women, that is 12.3% of MPs.
Again, there are only 13 substantive female ministers and 10 female deputy ministers in government made up of 123 ministers. This represents 18.6% of the executive.
In the 2016 election, out of 1,158 aspirants who contested for parliamentary seats, 136 were women. That is only 11.7%.
Of the 136 female candidates, 40 were from the NDC and 29 from the NPP; the remaining 67 were from smaller parties or were independent candidates and were highly unlikely to win a seat under Ghana's stable two-party system.
Out of the 136, only 36 won, 12  from the NDC, and 24 from the NPP.
Data on the number of women contesting in the 2020 elections is yet to be released.
But there are visible female elements in both NPP and NDC, contesting the parliamentary elections.
For the first time however, a major political party, the NDC, has selected a woman as a running mate in the person of Prof. Naana Jane Opoku-Agyeman.
The CPP also has elected Brigette Dzogbenuku as its presidential candidate while former First Lady, Nana Konadu Agyeman Rawlings is the flagbearer of the NDP, a party she founded.