General News
Latest
Nigerian High Commission paid for disputed land in 2000 – Foreign Affairs Minister reveals
It has emerged that as far back as 2000, the Nigerian High Commission in Accra paid for the disputed land on which property was demolished last weekend. 
Although the Nigerian High Commission made payment for the said land, a Land Title Certificate had not been issued to the diplomatic mission.
These revelations are contained in the report of preliminary investigations conducted by the Foreign Ministry into the incident, which threatened Ghana and Nigeria diplomatic relations.
Speaking at a press conference in Accra, the Foreigner Affairs Minister said the High Commission "presented receipts of payments on the said land, made by Bankers Draft payable to the Executive Secretary of the Lands Commission".
How it happened
Last weekend, some unidentified armed men stormed the commission to demolish a structure that was under construction.
Shortly after the demolition exercise, Paramount Chief of the Osu Traditional Area, Nii Okwei Kinka Dowuona VI, defended the action.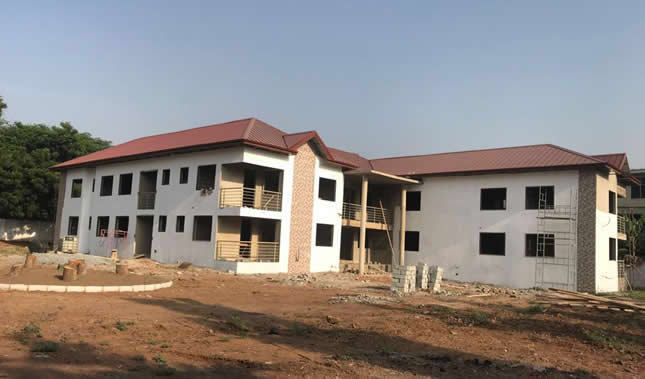 He said the parcel of land was different from the building the Nigerian High Commission was currently occupying.
Nii Okwei Kinka Dowuona VI argued that the said land belonged to the Osu Stool.
A committee made up of officials of the Ministry of Foreign Affairs and Regional Integration, the Lands Commission, National Security Secretariat, and the Ghana Police Service were constituted to investigate the incident and make appropriate recommendations.
It found that the Nigerian High Commission bought the land two decades ago, but failed to complete the land acquisition process.
"The Lands Commission stated that the said 4-acre parcel of land is part of vested land which is owned by the Osu Stool and managed by the Lands Commission. In June 2019, the Osu Stool requested the Greater Accra Regional Lands Commission to grant a lease in respect of a part of the said land to a third party.
"The Lands Commission stated that per its processes of granting leases, its records did not reveal any previous transaction in respect of the land in question," the minister stated.
She added, "the Lands Commission revealed that a letter referenced AC 14826 of 4th July 2019, signed by the Regional Lands Officer and addressed to the High Commission of Nigeria, informed that the Osu Stool had requested the Lands Commission to grant a lease to a third party on the land in question.