The National Democratic Congress has sacked 18 of its members who have gone independent ahead of the 2020 parliamentary elections.
The list includes at least three former MPs and some defeated aspirants in the party's primaries.
The sacking follows a similar move by the governing NPP after some of its members broke away to contest as independent candidates.
The names include;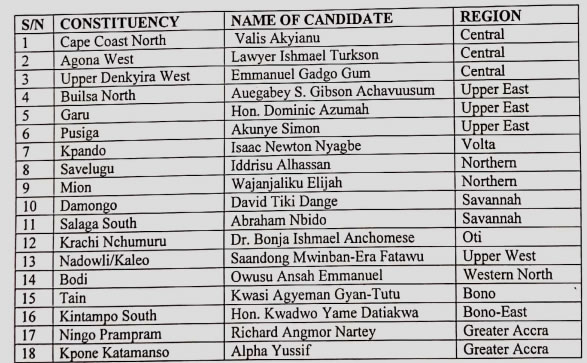 "They must hand over all party property in their possession to their respective constituency secretariats, and they must cease to forthwith in using party paraphernalia and the name of the flagbearer in all their campaigns" the statement read.
The statement further read those party members who associated themselves with the candidature of the listed names could face the same punishment.
"It must also be noted that all party members who endorsed your nomination form, campaigned for you, or openly associate themselves with your campaign activities are equally in breach of the above provision and therefore, suffer the same punishment as the independent candidates" the statement read.
More soon….