If former President John Evans Atta Mills had not intervened, many NPP appointees would have ended up in jail, NDC stalwart, Professor Kwamena Ahwoi, has revealed.
According to him, several appointees of former President John Agyekum Kufuor were involved in misconduct, which was detected after the NPP exited office in 2000.
Recounting the incidents, Professor Ahwoi said he was in charge of the transition team, together with the late P.V. Obeng.
"We built criminal dockets against more than 100 NPP appointees," he stated.
They planned a series of press conferences to be addressed by the then Deputy Chief of Staff, Alex Segbefia.
However, former President Mills shot down the move and declined approval.
"He (Professor Mills) sat back, looked at me, and said 'so you want us to do this to them (NPP) when they come (to power) then they would also do it to us, and the cycle continues. Kwamena, I won't do it'"
"So that is how they got away with 'murder'. Today, they get up and say that if they had done anything wrong, we would have prosecuted them," he stated in an interview with Joy FM, which was monitored by theghanareport.com
Professor Ahwoi, who served as Minister for Local Government and Rural Development from 1990 to 2001 under the Rawlings regime, recounted how the development angered many members of the NDC.
According to him, it precipitated into one of the reasons that resulted in Mr. Rawlings' anger against Prof. Mills, leading to the breakdown of the relationship between the two ex-presidents.
Consequently, some NDC members labelled the late Professor Mills as being unfit for politics.
Mr. Ahwoi attributed the actions to the perception and values of Professor Mills who was affectionately called 'Asomdwehene' – 'the king of peace.'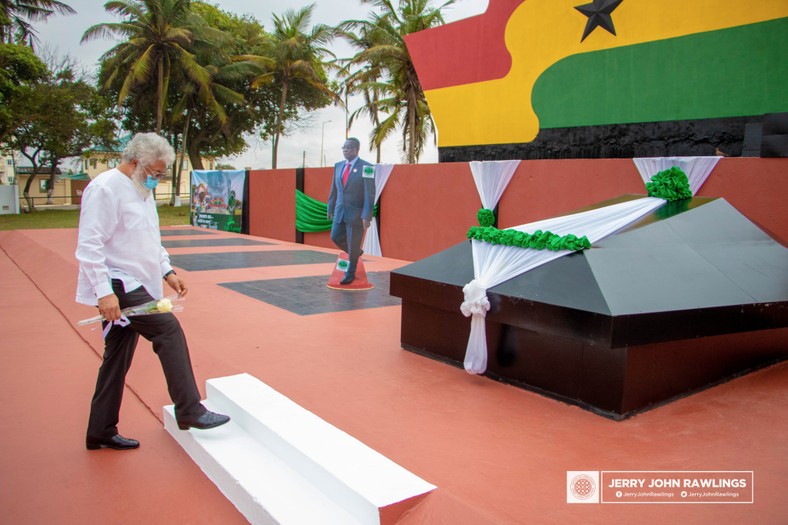 "In politics, you don't always have to be good. Mills was good, so he assumed that every human being was good. But in politics, there are very bad people, and when you encounter them, you have to deal with them."
While the NDC made unsuccessful attempts to prosecute appointees of different political colours, the NPP has prosecuted several NDC appointees.
Political appointees jailed under NPP regimes
Former Deputy Minister of Finance, Victor Selormey, was accused of conspiring with the then Minister of Trade and Industry, Dan Abodakpi, to divert $400,000 meant for a project.
He was sentenced in 2001 for his involvement in the Quality Grain Scandal.
Selormey was convicted on all six counts of defrauding by false pretense, conspiracy, and causing financial loss to the State.
Accra High Court sentenced former Finance Minister, Kwame Peprah, to 4 years in prison in 2003 for his role in the Quality Grain scandal. He was charged with conspiracy and causing financial loss of 20 million dollars to the state in a rice project at Aveyime in the Volta Region.
The People's National Convention (PNC) member and former Minister of Youth and Sports, Mallam Issa, was jailed in 2003 when a sum of $46,000 which was in his car went missing mysteriously during a Black Stars World Cup Qualifier against Sudan in 2002.
In 2007, former Member of Parliament for Keta, Dan Abodakpi, was jailed 10 years.
He was sentenced on three counts of conspiracy, two counts of defrauding, and two counts of wilfully causing financial loss of $400,000 to the State.
The most recent of the convictions was the sentencing of three former board members of the National Communications Authority (NCA).
They are, Board chair Eugene Baffoe Bonnie; former NCA Director-General, William Tevie, and former Deputy National Security Coordinator Alhaji Salifu Mimina Osman.
Their combined 16 years' sentence was for causing financial loss after they played various roles in the purchase of a $4 million cyber-security equipment.
On-going trial
In March 2018, the Attorney-General charged former Chief Executive Officer (CEO) of the Ghana Cocoa Board (COCOBOD), Dr. Stephen Kwabena Opuni with 27 counts for allegedly engaging in illegalities that caused financial loss of GH¢271.3 million to the state and led to the distribution of sub-standard fertilizer to cocoa farmers.
Also named in the suit was Seidu Agongo, a businessman and CEO of Agricult Ghana Limited.
Mr. Agongo is alleged to have used fraudulent means to sell sub-standard fertilizer to COCOBOD for onward distribution to cocoa farmers, while Dr. Opuni is accused of facilitating the act by allowing Agongo's products not to be tested and certified, as required by law.
The two accused persons have pleaded not guilty to all the 27 charges and are currently on bail in the sum of GH¢300,000 each.
The case is ongoing at the Accra High Court.
Mahama's biggest mistake was to surround himself with people who were not core NDC members – Kwamena Ahwoi