It isn't everyday that you see and her of a father and son, rising that high together and even more inspiring enough, serving in the same firm and government. Well, this is exactly what we chanced on and you will love this.
Prof. Dr. Ato Essuman is the father to Lawyer Kow Essuman. Whereas his son's news went viral when he was admitted to the Bar of England and Wales and the New York State Bar, in fulfillment of his ultimate goal to be an international lawyer with a practice in commercial litigation, banking and finance, international trade and company/corporate litigation, the dad is The Director of the Institute of Education and Entrepreneurship (IEE) at the Methodist University College of Ghana (MUCG).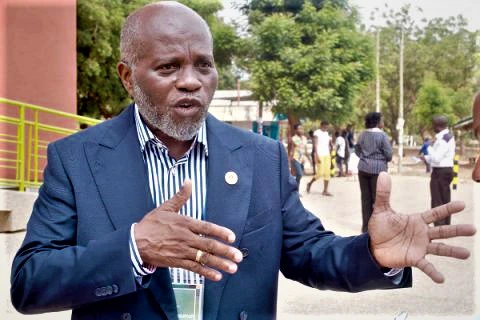 Both are renowned internationally and have over the years shown considerable expertise in their fields of study. Lawyer Kow Essuman has specialties in Civil Litigation, Corporate/Company Law, International Trade, Banking & Finance Law, Commercial Litigation.
Dr. Ato Essuman possess decades of experience in both the public and private sector, his experience ranges from serving as the Chief Director of the Ministry of Education, a member of the Council of State of Ghana, to roles in Nestlé, Coopers and Lybrand and Technoserve Incorporated. Dr. Essuman has also authored the book: Decentralization of Education Management in Ghana: Key Issues in School-Community Relations where he advocates for decentralization of education management which incorporates deeper understanding of local contexts.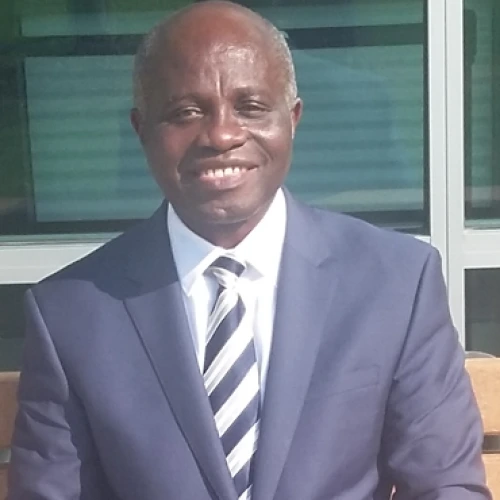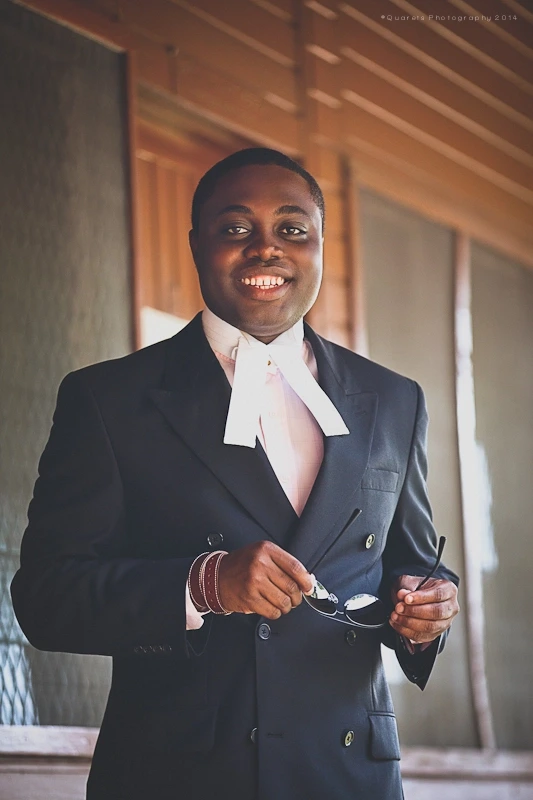 They both serve on the leadership at SO Bridges, a global investment adviser, advocacy, local agent for multinational company in Ghana from its office at Number D16, Sekou Toure Street, North Ridge, Accra, Ghana and its international office in Nigeria.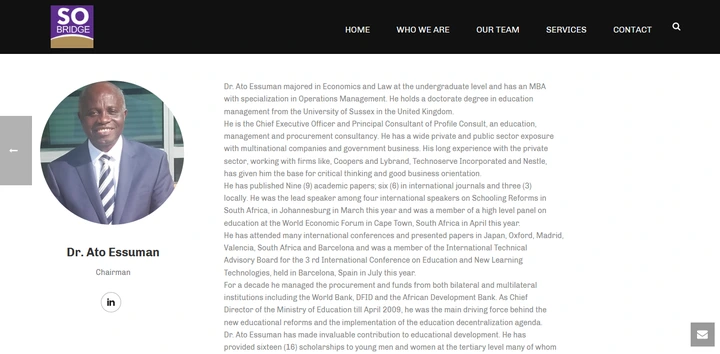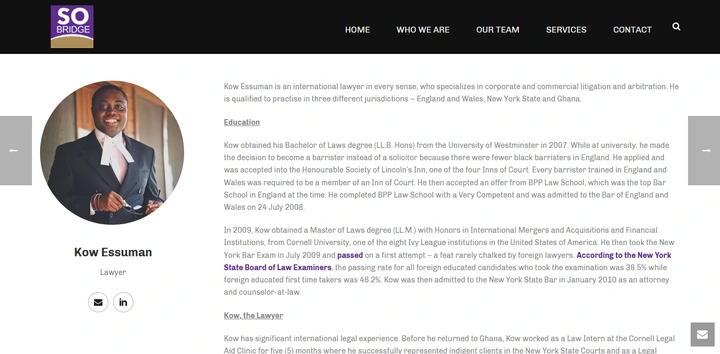 Again, whereas Prof. Ato Essuman was named by President Nana Addo to serve on the Council of State, his son, Lawyer Kow Essuman, was recently named as the President's Legal counsel, providing him with advice on constitutional and other legal matters. He previously served in the President's first term as his Assistant Secretary and Counsel to the President of the Republic of Ghana, according to Kow Essuman's LinkedIn account.