Mahama quotes false COVID-19 figures for Ghana
Former President John Mahama in a blog post titled 'John Mahama's latest write-up on COVID-19' on his website on Friday, May 29, 2020, stated some figures to give an overview of the status of COVID-19 in Ghana.
He mentioned the total number of positive cases recorded in Ghana as 7,362 with the number of deaths as 32. The write up also mentioned the number of recoveries as 2,412 "as of this morning."
"As of this morning, 29th May, 2020, the number of confirmed positive cases stands at 7,362, with 32 deaths. While the 2,412 total recoveries is welcome news, it is also evident from the latest data that the virus is still spreading, and across the country," the fifth paragraph of the publication stated.
The publication was shared on various news and political WhatsApp groups. It has been published on major online on sites such as Myjoyonline.
Fact-checkghana.com looked at the claim and found some of the figures to be wrongly quoted.
Explanation:
Ghana recorded its first case of COVID-19 on 12th March 2020. Since then, the country's case count continues to increase with the Ghana Health Service (GHS) bearing the primary responsibility for announcing case count updates in Ghana.
Through a Google link time-check mechanism, we found out that Mr Mahama's blog post, which stated some figures as the numbers for COVID-19 positive cases, recoveries and deaths in Ghana was published at exactly 11:45GMT on Friday, May 29, 2020.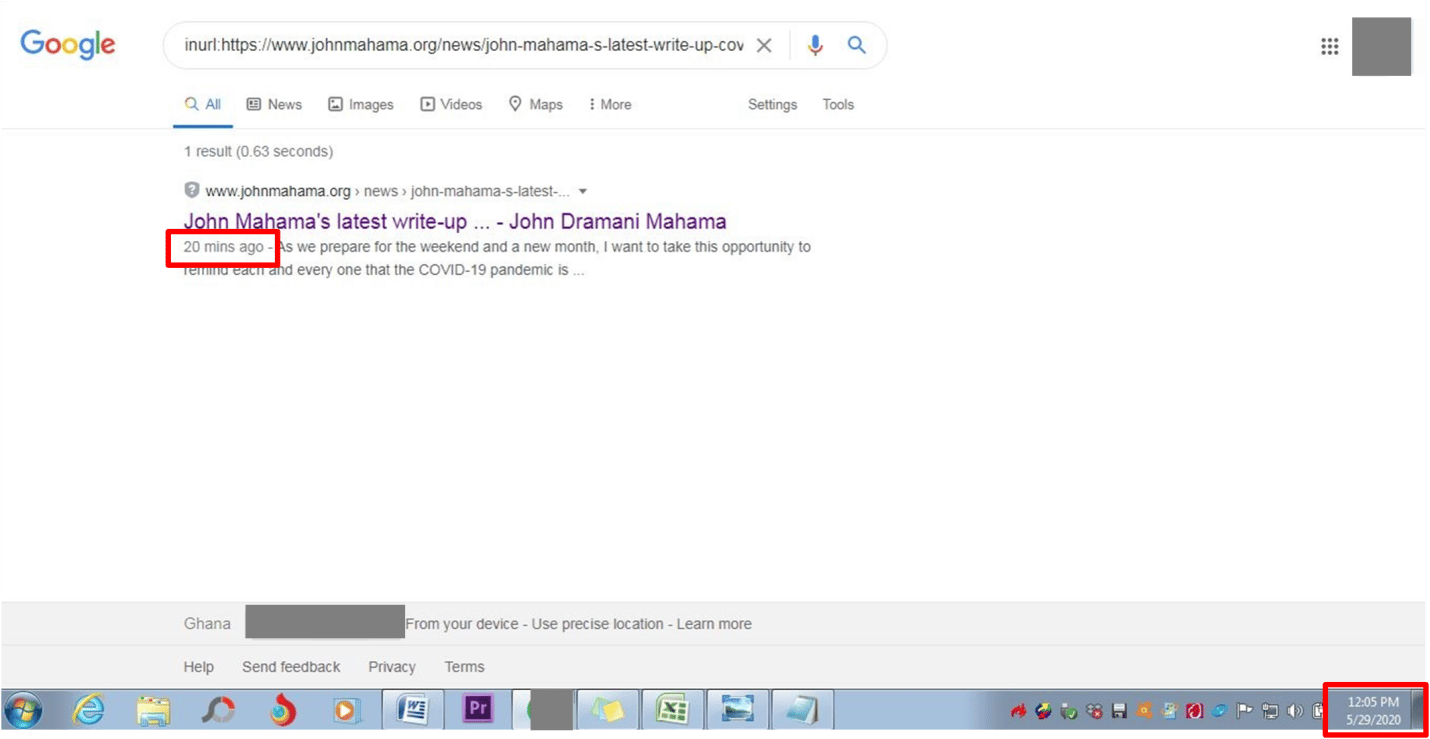 The GHS's COVID-19 portal, which is the nationally dedicated online destination for announcing new COVID-19 figures in Ghana at the time of Mr Mahama's publication, had the following numbers for COVID-19 cases, recoveries and deaths in Ghana.
Number of cases: 7,303
Number of deaths: 34
Number of recoveries: 2,412
The GHS figures for the number of deaths and confirmed cases were different from those mentioned in Mr Mahama's blog post.
We observed that few minutes after Mr Mahama's blog post, the GHS released a new update on the country's COVID-19 case count.

To be sure that the figures quoted by Mr Mahama were not the same as those the GHS minutes later announced, we checked by the GHS website and found the following numbers as the new figures:
Number of cases: 7,616
Number of deaths: 34
Number of recoveries: 2,421
| | | | |
| --- | --- | --- | --- |
| | GHS Website(Previous update of  May 27, 2020) | John Mahama blog post(Published May 29, 2020 – 11:45GMT) | GHS Website(New update  of May 29, 2020 – 11.59GMT) |
| Total confirmed cases | 7,303 | 7,362 | 7,616 |
| Number of deaths | 34 | 32 | 34 |
| Number recoveries | 2,412 | 2,412 | 2,421 |
Based on the above information, we conclude that the figures quoted in Mr Mahama's blog post were wrong and a false representation of the case count of COVID-19 cases in Ghana.
The figure (7, 362) wrongly quoted by Mr Mahama as the total number of confirmed cases was first wrongly reported by the GHS as on Tuesday, May 26, 2020. It was corrected 15 minutes later as 7,303.
The GHS later apologised for it the error