General News
Latest
Interpol Denies Knowledge Of Arrest Warrant "A Red Notice Is Not An Arrest Warrant ".
Interpol together with the Ghana police service has been on an investigation concerning issues of Airbus. These investigations have however led to the issuing of a "Red Notice" to some political activists in the NDC.
However, there has several misunderstanding, misinformation and misinterpretation of this red notice.
Through a simple search on Interpol's official website, it was confirmed that a number of 7305 individuals are "wanted" globally by Interpol. However, the name of Samuel Adam Mahama was not one of such fugitives on the Interpol wanted lists.
Also, per the letter, circulating on social media claiming to be an arrest warrant, this said warrant of arrest was classified as a red notice, according to Interpol, "a Red Notice is an international wanted person notice, but not necessarily an arrest warrant".
International legal experts have also confirmed on various platforms that, the circuit courts of Ghana have no judicial power to invoke the authority of Interpol to issue an arrest warrant on any individual in the country.
The Ghana Police service has however also have stated categorically and clearly in the below letter, that it is a "red notice" Ghanaians should stop calling it an arrest warrant.
The below individuals have not been issued with any format of an arrest warrant as being called by many media houses.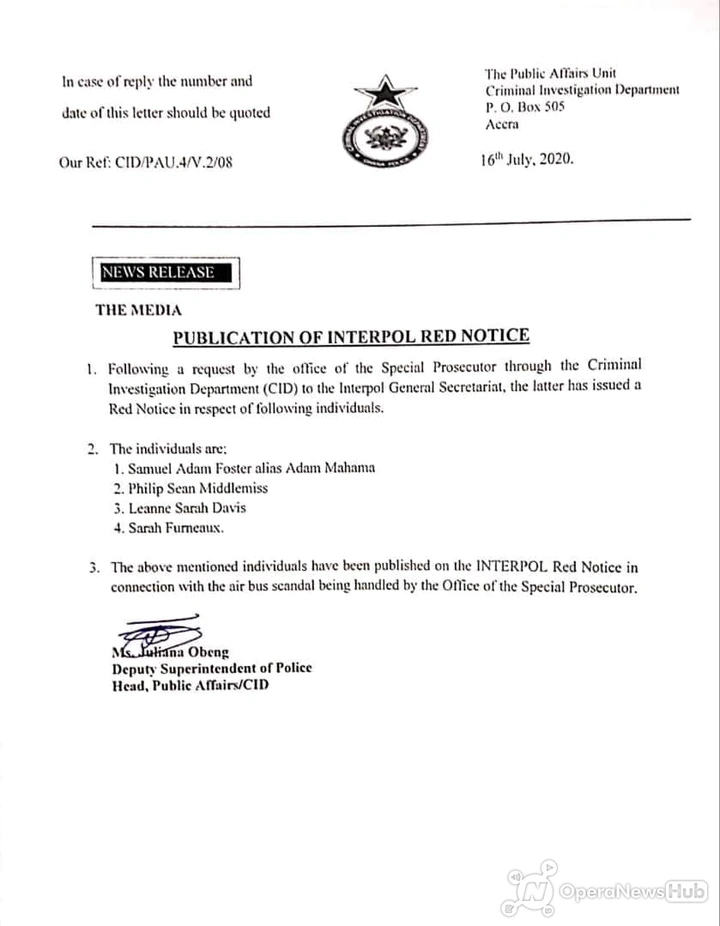 I would advise that Ghanaians especially politicians and naive individuals to visit the Interpol website to check for themselves and stop the fake news.
The police are also supposed to clarify to the general public the difference between "Red Notice" and "Warrant of Arrest" and stop causing fear and panic.