The NDC National Chairman, Samuel Ofosu-Ampofo says claims of him running for the 2024 presidential candidate of the NDC are untrue.
"My attention has been drawn to a publication trending on Ghanaweb and other social media portals that I, Samuel Ofosu-Ampofo, the National Chairman of the National Democratic Congress, am preparing to contest for the flagbearership position of the party in readiness for the 2024 presidential elections. Nothing is further from the truth."
In a press release dated January 17, the NDC Chair stated that he has "no desire to challenge His Excellency John Dramani Mahama either today or tomorrow for the flagbearership of our great party."
Mr Ofosu-Ampofo asked that the "useless effusions of Gabby Okyere-Darko on [his] Presidential ambition" be ignored.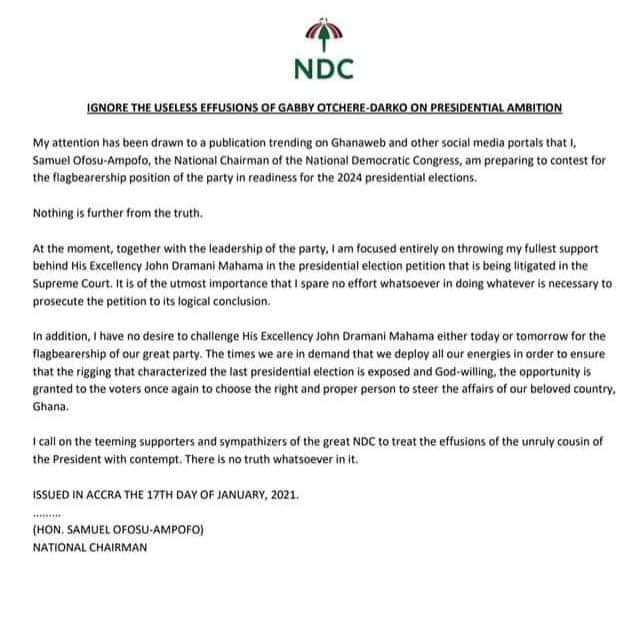 He called on "the teeming supporters and sympathisers of the great NDC to treat the effusions of the unruly cousin of the President with contempt. There is no truth whatsoever in it."
His comments come after a claim by a member of the governing New Patriotic Party (NPP), Gabby Okyere-Darko pointed to the fact that the NDC Chair is preparing to contest against John Mahama ahead of the country's next general election.
"The NDC Chairman, Ofosu Ampofo, is fully involved in court efforts to secure a rerun of last month's presidential race between John Mahama and Jean Mensa (sorry, Akufo-Addo). Yet, who says he is not also preparing keenly to contest John Mahama as the party's presidential candidate for 2024?
"They both know the score. That they are likely to face each other pretty soon and pretending the Supreme Court is where the real battle is," he stated.
According to Ofosu-Ampofo, the leadership of the NDC is focused on supporting Presidential candidate John Mahama in his election petition against the Electoral Commission and President Akufo-Addo.
"It is the utmost importance that I spare no effort whatsoever in doing whatever is necessary to prosecute the petition to its logical condition.
"The times we are in demand that we deploy all our energies in order to ensure that the rigging that characterised the last presidential election is exposed," he stated.