George Floyd finally laid to rest amidst tears and protests at Houston, Texas- PHOTOS
George Floyd, who died after a Minneapolis police officer pressed a knee to his neck for almost nine minutes, was buried in Houston Tuesday after days of memorials that merged religion and politics in ways long common in the African American community.
His funeral at the Fountain of Praise church follows a six-hour public viewing of his gold-coloured
casket on Monday. Houston Mayor Sylvester Turner announced during the funeral that he is signing legislation to ban chokeholds by police.
"For me and I expect a lot of my friends who are in my generation, it's an ache that is familiar and terrible," said 70-year-old Karla Holloway, a professor who has taught African American studies, English and law at Duke University. "For young folks, I am grateful because I think that they can both bear this weight and move forward in ways that are necessary."
Alongside the family's grief, there have been political exhortations from civil rights leaders such as the Rev. Al Sharpton, who spoke at one of the first of the memorials in Minneapolis on Thursday. Sharpton, the founder of the National Action Network and MSNBC host, told mourners that, "George Floyd's story has been the story of black folks. Because ever since 401 years ago, the reason we could never be who we wanted and dreamed of being is you kept your knee on our neck."
"It's time for us to stand up in George's name and say, 'Get your knee off our necks,'" Sharpton said.
Floyd's funeral comes two weeks after his videotaped death was seen on social media and after a week of protests in large and small cities nationwide that in some cases turned violent.
Floyd, 46, died after he was handcuffed and forced down onto a Minneapolis street with former police office Derek Chauvin's knee on his neck. He pleaded that he could not breathe and called out for his mother before becoming unconscious.
Chauvin and three other police officers who were present have been charged in his death. Chauvin, whose bail was set at $1.25 million on Monday, faces the most serious charges, among them second-degree murder.
Former Vice President Joe Biden, the presumptive Democratic presidential nominee who met privately with Floyd's family, recorded a video for the funeral.
In his recorded remarks, Biden said that "when we get justice for George Floyd we will truly be on our way to racial justice in America."
To Floyd's daughter he said, "Then, Gianna, your daddy will have changed the world."
More than 500 mourners gathered for the service at Fountain of Praise church in Houston, where Floyd was
Holloway called the days of memorials a gift to the public from the family, allowing their private grief to become a public moment. Floyd's death has put a spotlight on police brutality and has sparked calls for reform.
"It's going to be this political, religious mix because the African American community has long been deeply embedded in the church, and the church has long been embedded in our bodies both politically and spiritually," Holloway said.
Floyd's funeral, a homegoing service in the African American tradition, is a moment to inspire and celebrate, said the Rev. Alyn E. Waller, the pastor of the Enon Tabernacle Baptist Church in Philadelphia.
It is a chance to celebrate his life and an opportunity for the nation to stand together for justice and equality, said Waller, a pastor of 25 years who preaches in the largest black church in Philadelphia.
"The purpose is to help paint the picture of the moment," he said. "And certainly in this moment, we are painting the picture of black suffering and white oppression and systemic injustice."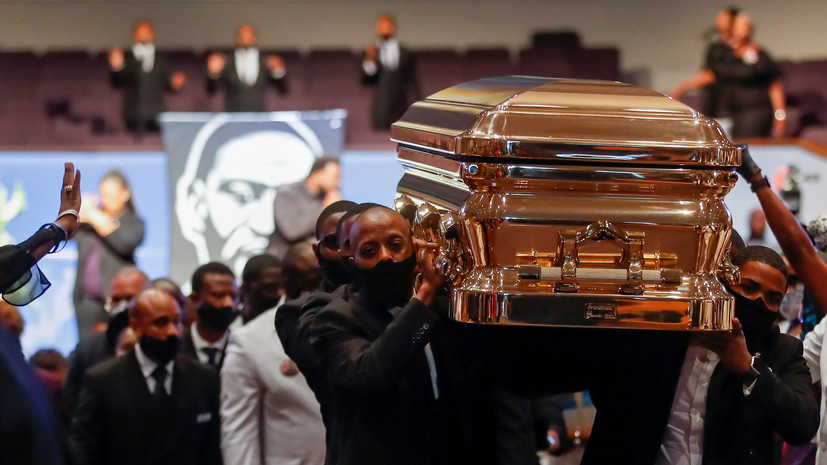 "So we feel our religion. So there's going to be a celebration. There's going to be time to voice our anger and voice our feelings," he said.
Watch Videos Below: