Some Ghanaians youths are dying to hit the streets massively to demonstrate against the President of the land, His Excellency Nana Addo Dankwa Akufo-Addo, and his New Patriotic Party (NPP) administration for the economic hardship they have currently burdened Ghanaians with through a rapid increase in petrol prices, the introduction of new taxes among others.
As we speak, the chance to hit the street massive is in court but some of these frustrated youths have taken unto the street with placards and send a simple message to the leaders of this country. There are some Ghanaians who believe that Members of Parliament, Ministers of State, and other government officials do not need to be treated special with taxpayers' money because Ghana is still a developing country. That is exactly what the lady in your picture below is having on her placard.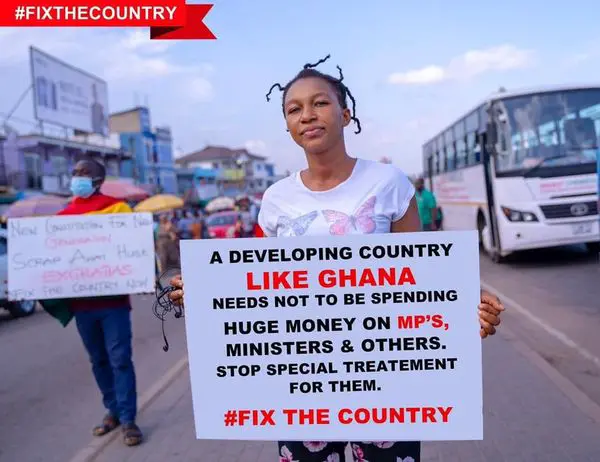 The guy beside the lady above has a placard with the inscription "New constitution for a new generation. Scrap away huge ex-gratia". The Speaker of Parliament, Hon. Alban Sumana Bagbin has made his stand that he is ever ready to assist in the amendment of the 1992 Constitution to meet the needs of this generation, what is left is for the Legislature, Judiciary, and Executive arms of government to work together for this to come to pass.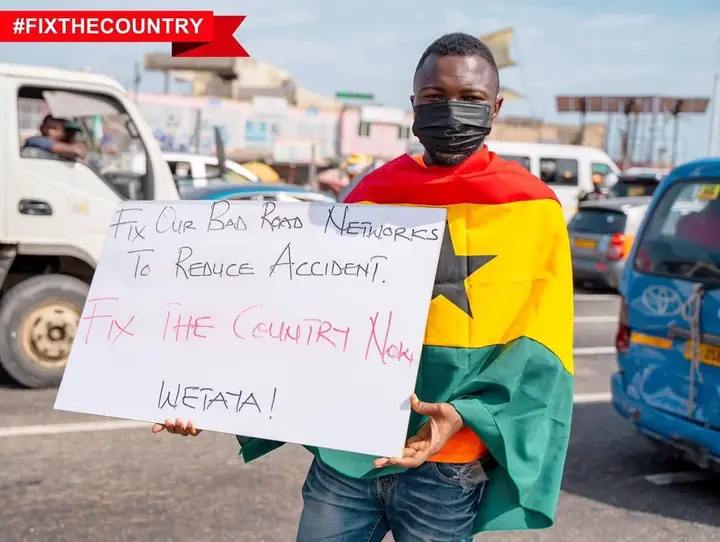 There are too many bad roads in the country and this is one of the factors contributing to high road accidents in the country. The #FixTheCountry Protestors are asking the President of the land, Nana Addo Dankwa Akufo-Addo to fix these roads and save innocent lives.
The recent murder of Constable Emmanuel Osei shakes the whole country as some reacted that if a Policeman could be killed by armed robbers in broad daylight, what shows that the ordinary citizens are saved. It was revealed that Constable Emmanuel Osei was not wearing a bulletproof vest which contributed to his quick death.
The Vice President of the land, His Excellency Dr. Mahamamudu Bawumia during the 2020 Campaign launch of the NPP promised Ghanaians that all Police officers on duty to get bulletproof vests but that promise is nothing to write home about. But the #FixTheCountry guy in your picture below has the solution to the purchasing of the 70,000 bulletproof vests for all Police Officers in the country.
According to the inscription on his placard, the price of one (1) 2020 V8 car can purchase the 70,000 bulletproof vests for all the Police Officers.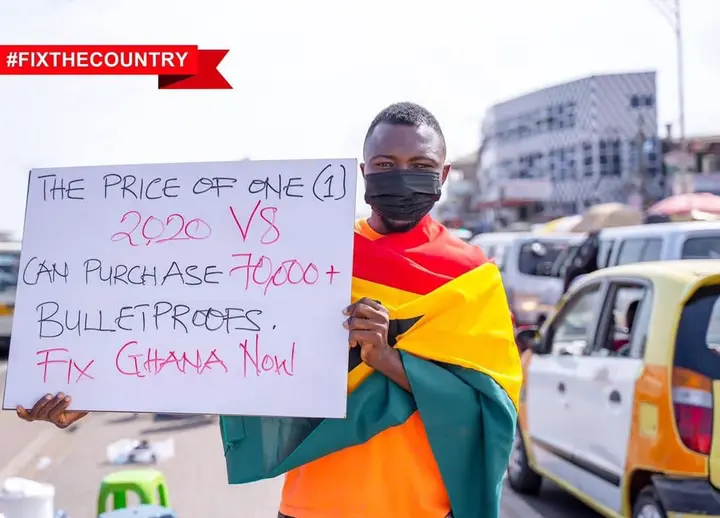 Check out the other messages by these protestors below: