A High Court in Ho presided over by Justice George Buadi has granted an interim injunction restraining the Electoral Commission from gazetting Energy Minister, John Peter Amewu as member of parliament for the Hohoe constituency.
The injunction follows an ex-parte application filed by lawyer Tsatsu Tsikata on behalf of some individuals who hail from the SALL areas of Santrokofi, Akpafu, Likpe and Lolobi in the Guan District for being prevented from taking part in the December 7th parliamentary elections.
In court today, counsels representing the applicants argued that the prevention of the people of these four traditional areas from taking part in the Hohoe parliamentary election was a violation of their fundamental rights; thus prayed the court to restrict the EC from gazetting the Hohoe Parliamentary results while demanding action for the enforcement of their fundamental rights -specifically their right to vote.
The application also sought to restrain the Electoral Commission from presenting John Peter Amewu as the elected representative for the people of Hohoe whereas seeking to prevent him from presenting himself to be sworn into office as the Member of Parliament for the Hohoe constituency.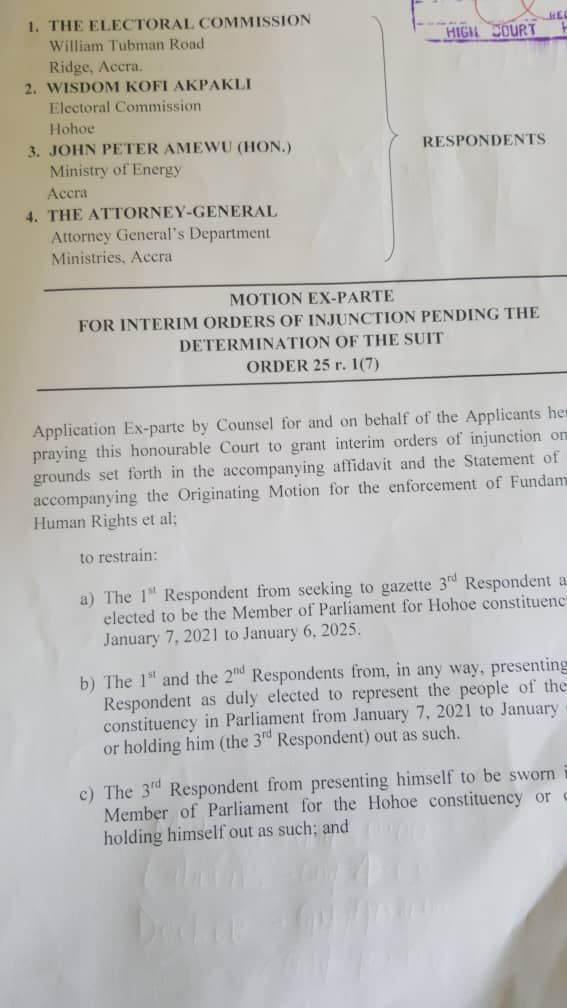 Background
On the eve of the December 7th polls, the Electoral Commission issued a statement exempting eligible voters in the Guan District of the Oti region while they were allowed to take part in the Presidential election only.
The decision according to the EC was as a result of the creation of the Guan District Assembly pending the creation of the Guan constituency.
However, the decision by the EC did not go down well with residents in the Guan area, many of who argued that prior to the creation of the Oti region, the Hohoe constituency in a whole, included the SALL areas; Santrokofi, Akpafu, Likpe and Lolobi thus the EC should have allowed them to vote in Hohoe.
Source: Starrfm